EXO started as a 12 member group that was split into 2 units; EXO-K releasing music in Korean and EXO-M releasing music in Mandarin. The units have been dissolved in favour of creating one unified group under the name EXO. This was also the result after 3 members left and sued the groups' entertainment agency, SM for human rights violations.
They debuted on April 8th, 2012 and their fandom is named EXO-L. The debut song, 'Mama' was a successful debut with an amazing sound; elements of rock and electronic! They have great tracks with catchy hooks that will be replaying in your mind all day. My personal highlight of EXO music is their vocals; some of the strongest male vocals in KPOP.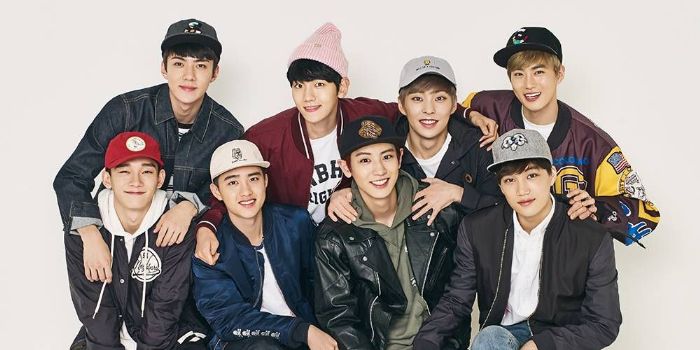 Their choreography is always intense and powerful; every member is truly a strong dancer. Overall, they are amazing performers. I highly recommend checking out 'EXO Showtime' to get to know these nine men!
EXO Member Profile
SUHO [Kim Junmyeon]
Kim Junmyeon is the group's attentive and humble leader. A kind hearted vocalist that guides his members extremely well. He truly thinks of his members as his family and the way he takes care of them is really heart-warming to watch. The group loves to tease him and he is sweet; he adores it! His singing is gentle and strong. I replay his cover of Kim Johan's song 'I Want To Fall In Love' too often!
Xiumin [Kim Minseok]
Kim Minseok is the most adorable and oldest member. A member of sub-unit EXO-CBX. This detail oriented man enjoys a clean space and is a fan of soccer. His singing is bright and lovely; just like his personality. He warms up every space with his presence and carries an underlying maturity along with his playfulness.
LAY [Zhang Yixing]
Zhang Yixing is an artist through and through. His singing is soft and comforting, he dances spectacularly, plays the piano and guitar, and he is a songwriter; writing his entire solo albums 'Lose Control', 'Lay 02 Sheep' and many more. An easy going member that gets along and adores everyone. This silly and lovable man will surely win your attention!
Baekhyun [Byun Baekhyun]
Byun Baekhyun is on my favorite vocalist list; I could listen to him sing all day. I especially enjoy his duet with JYPE's Suzy in 'Dream' and his duet with Starship Entertainment's K.Will in 'The Day'. This cheerful, fun-loving man is sure to brighten anyone's day! A music lover; he plays the piano and writes lyrics for the group. A very talented dancer! Also an actor; he starred in the popular 'Moon Lovers: Scarlet Heart'.
Chen [Kim Jongdae]
Kim Jongdae is an outstanding vocalist! I love his OST works like 'Everytime' for the drama Descendants Of The Sun and 'Best Luck' for the drama It's Okay, That's Love. He is also a songwriter for the group; his works include 'Kokobop', 'Touch It', 'Light Out' and many others. This honest man is never afraid to voice himself; a trait I admire. A polite and sweet man that takes care of those around him.
Chanyeol [Park Chanyeol]
Park Chanyeol is the vitamin everyone needs in their life. This childlike man is too adorable and he is so handsome and a charismatic rapper; the duality is dangerous. This strong rapper can sing and write beautifully as well! Talented can not begin to describe this man; his skill when it comes to instruments is exceptional.
D.O. [Do Kyungsoo]
Do Kyungsoo is quite the power vocalist and a beatboxer. He is also an outstanding idol actor. I recommend his roles in the movies, 'Swing Kids' and 'My Annoying Brother'. This serious and quiet character; is playful and hilarious. His comeback moments never cease to leave me in tears. He does have an astigmatism, that doesn't allow him to wear contact lenses. His sweet smiling face may just catch your eye!
KAI [Kim Jongin]
Kim Jongin; the dancing machine! One of KPOP's best dancers. His stage presence is untouchable; the entire audience is captivated by him. He had a solo performance during the 2018 Pyeongchang Olympics. He is a vocalist now with a lovely voice. This shy, sweet man has the best laugh! Jongin is a kind person and is deeply loved by his members.
Sehun [Oh Sehun]
Oh Sehun is the youngest member. The group's pride! Their charming and affectionate youngest. While he does care deeply for all his members , he also enjoys teasing them. He is a cute innocence to him. A great dancer and rapper. An all-around consistent talent with a great personality! He even has his own adorable catchphrase, "Yehet!"
Former EXO members
Kris [Kris We]
Kris Wu left EXO in May 2014 and started his solo career in China with the release of 'Bad Girl' in 2015. He wanted more creative freedom with his music, thus the reason for leaving SM Enertainment. He is the first celebrity from China to play in the NBA Celebrity game in 2018.
Tao [Huang Zitao]
Huang Zitao departed from the group in August 2015 and released a track titled 't.a.o.' that same year in China. He suffered a leg injury that did not heal properly; this is the reason he left SM Entertainment. He studied martial arts and is hypnotizing to watch. His acting career includes roles in 'The Game Changer', 'Edge Of Innocence' and more.
Luhan
Luhan left the group in October 2014 and started his solo career in China with 'That Good Good'. He left SM Entertainment for health reasons. He is also an actor in China, starring in, 'Time Raiders', 'See You Tomorrow', 'Sweet Combat' and many many more.
EXO is a group that shows us that challenges are not road blocks. That the group can grow strong and close despite negative spotlight. I like that every member brings something different to create one whole happy group. They love their fans, EXO-L whole-heartedly. A group that will always be known as successful legends.